The world's first and only inductive multipoint locking system!
Our latest multi-point locks set standards in security, convenience and energy efficiency. With innovative features and technologies, we ensure the highest level of protection and convenience.
Multi-point locks are an advanced solution that take the protection of your doors to a new level. Unlike conventional single-point locking, multi-point locking systems offer multiple locking points that simultaneously engage the door frame. This results in significantly higher burglary protection and an increased sense of security.
Whether protecting your home, business or office premises, multi-point locking systems offer an effective and proven method of maximising security and convenience.
ADVANTAGES
SECURITY, CONVENIENCE & ENERGY EFFICIENCY
Self-locking: All latches move to the closed position when the door is closed. It enables faster and safer closing. Manual closing by hand is no longer necessary
Double-sided lever handle: The outside lever handle is in the idle position and can be activated electrically, e.g. by an intercom, smarthome system, emergency call device or access control system. In case of power failure, it is still possible to open manually with the key
Panic function tested according to EN 179 and EN 1125
Lasting tightness for increased energy savings and reduction of external noise
The first and only multipoint lock with induction without wiring the door!
BENEFITS
ROUND-UP-PACKAGE
Due to the inductive energy transmission, no wiring of the door leaf is required. For the first time, the retrofitting of a multi-point locking system can be realized without wiring the door!
Problem-free integration into the Südmetall ÜManagement as well as into external access control systems
Standard profile cylinder can still be used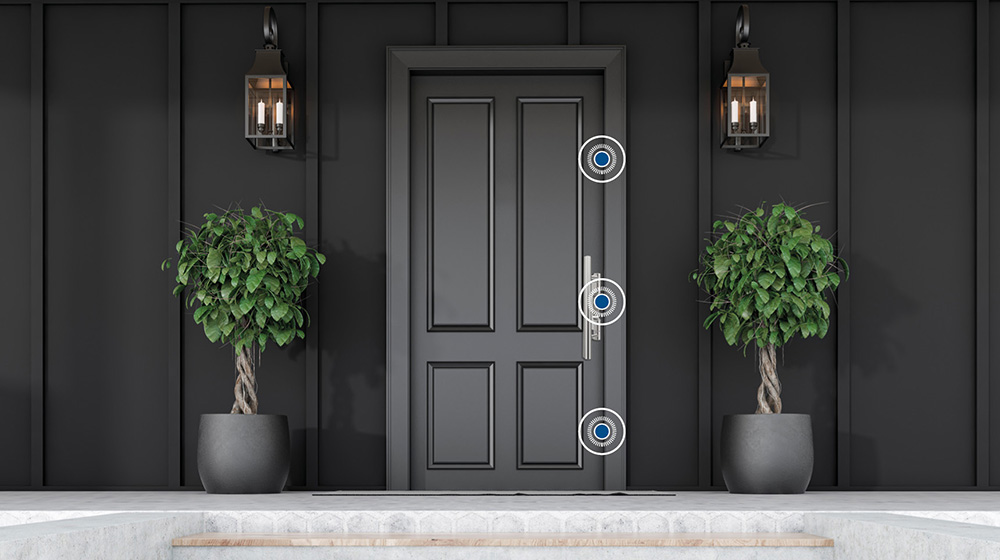 MULTI POINT LOCK INDUCTIVE
General product features:
Self-locking
5-point locking: 3 latch bolts (20 mm) and 2 swing bolts
Radio and electronics protected in the lock case
Active radio
Pairing with all Südmetall radio readers on 868.3 MHz possible
Pairing with Südmetall ÜManagement RFID readers possible
Radio frequency: 868.3 MHz / encryption AES 128
Inductive energy transmission – no battery change and no wiring of the door leaf required
Specification ÜLock MF-B Inductive:
Outside lever handle can be electrically coupled
Premium version incl. certificates: EN 179 / EN 1125 / EN 1634-1
Specification ÜLock MF-Z Inductive:
Both lever handles electrically engageable
No panic function
Premium variant incl. certificates: EN 1634-1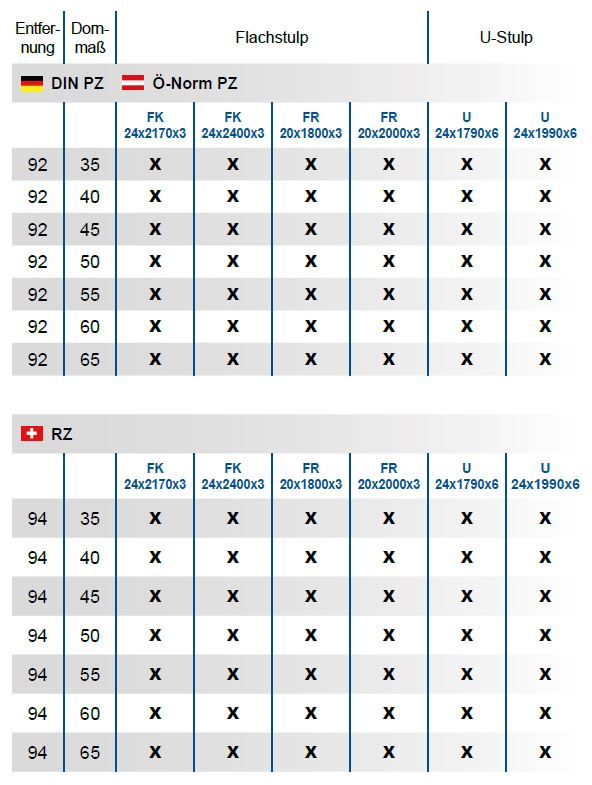 CLOSING STRIPS FOR ÜLOCK MF INDUCTIVE
General product features:
Variants available for standard doors as well as for high doors
Inductive transmission unit is integrated
Flat or U-shaped locking bars
Material: Stainless steel
Convenient installation, no time-consuming measuring of the distances between the locking points
Inductive transmitter unit is positioned exactly
Connection voltage of the inductive transmitter unit: 12V – 24V DC permanent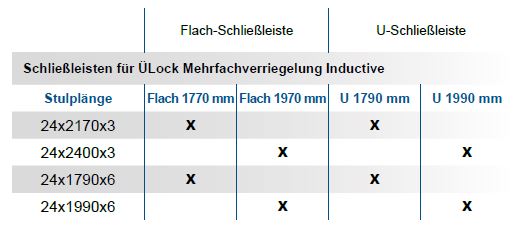 CLOSING PARTS FOR ÜLOCK MF INDUCTIVE
General product features:
Individual locking parts for the locking points and inductive transmitter unit
Flat or U-locking parts
Material: Stainless steel
Inductive transmitter unit is included in delivery
Connection voltage of the inductive transmitter unit: 12V – 24V DC permanent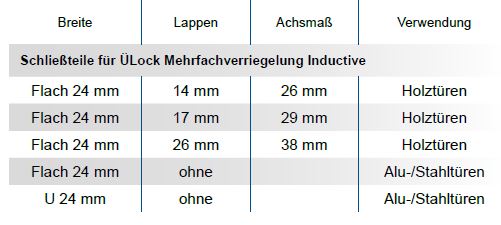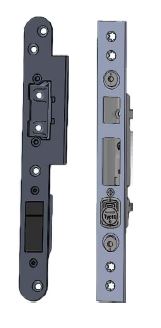 MULTI POINT LOCK CABLE
General product features:
Self-locking
5-point locking: 3 latch bolts (20 mm) and 2 swing bolts
Working current / closed current switchable
ÜLock MF Cable / Operation with I/O module
Encrypted data transmission
4-wire connection cable to external control unit
Various status messages
Üock MF Cable / Stand-alone operation
Direct control without controller possible
4-wire connection cable
No status messages
Specification ÜLock MF-B Cable:
External lever handle can be electrically coupled
Premium version incl. certificates: EN 179 / EN 1125 / EN 1634-1
Specification ÜLock MF-Z Cable:
Both lever handles electrically engageable
No panic function
Premium variant incl. certificates: EN 1634-1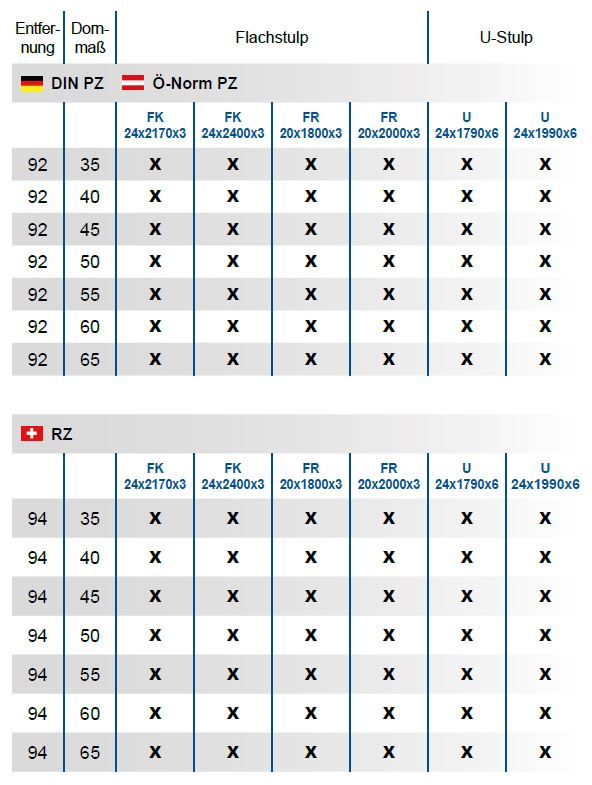 CLOSING STRIPS FOR ÜLOCK MF CABLE
General product features:
Variants available for standard doors as well as for high doors
Flat or U-shaped closing strips
Material: Stainless steel
Convenient installation, no time-consuming measuring of the distances between the locking points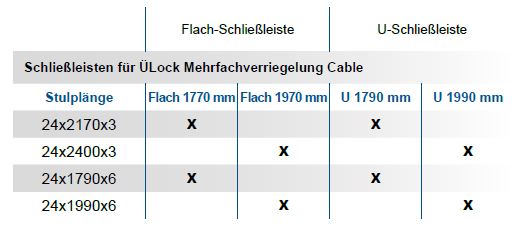 CLOSING PARTS FOR ÜLOCK MF CABLE
General product features:
Variants available for standard doors as well as for high doors
Flat or U-shaped closing strips
Material: Stainless steel
Convenient installation, no time-consuming measuring of the distances between the locking points