Innovation meets Design… without compromises
INCONSPICUOUSNESS MAKES THE DIFFERENCE
A product that does not compromise on design and sets a new benchmark in the housing of electronics in terms of safety on the product, compatible with the new trend of Bluetooth connectivity and opening, as well as creating new standards in the field of sustainability.
As security at the door has always been a basic human need, Südmetall has made it its business to integrate all access control electronics into the lock.
All sensitive components are contained in the lock case and are protected by both the door and the lock. On the outside of the key rosette, there is only the reader unit, which forwards the card data to the evaluation unit in the lock and cannot be manipulated. Bluetooth in combination with smartphone apps are gaining ground on the European market. Following this trend, Südmetall has equipped the new ÜLock Novus with a Bluetooth module. With the help of this Bluetooth interface, both control via smartphone and specific variants for OEM customers can be realized.
The RFID reader unit in the ÜLock Novus is housed in the key rosette in the smallest possible space, which means that lever handle models can be freely selected in terms of design and color, and a mechanical profile cylinder for emergency opening is also retained – design requirements no longer have to give way to functional solutions.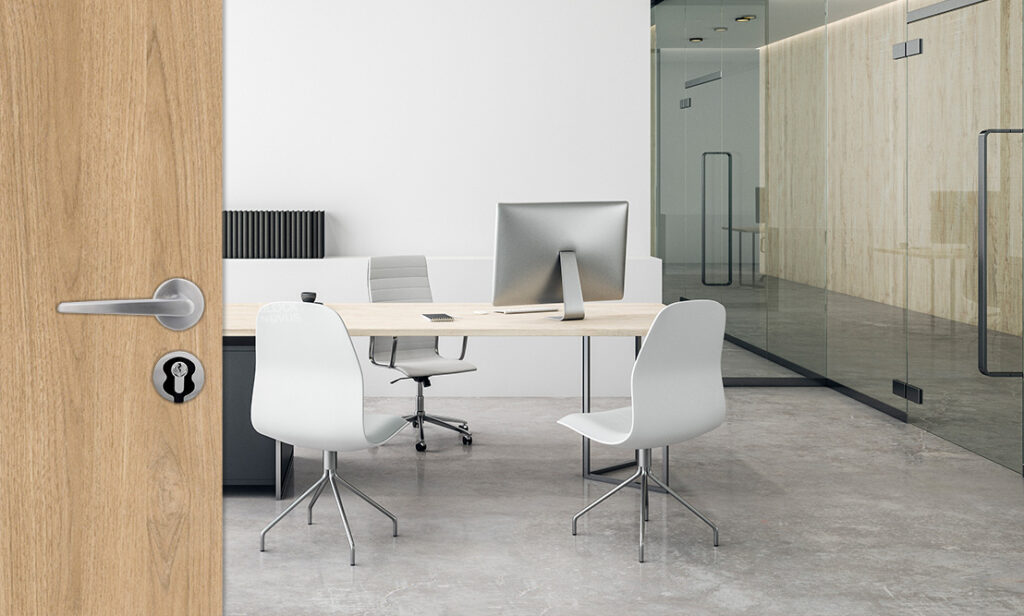 ADVANTAGES BATTERY VARIANT
Easy to retrofit, as no additional components are required
2 AAA batteries invisible in the lock case
Easy and quick battery replacement without tools
Operation by RFID medium or smartphone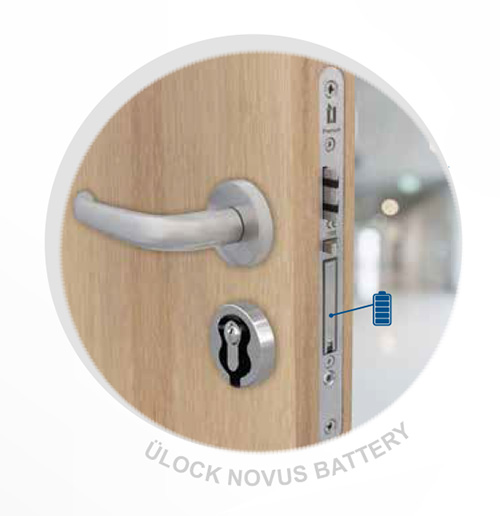 ADVANTAGES INDUCTIVE VARIANT
Inductive charging via the striking plate, therefore no battery replacement
Maintenance-free system
ÜLock Novus Inductive – The solution for a sustainable future
Operation via RFID medium or smartphone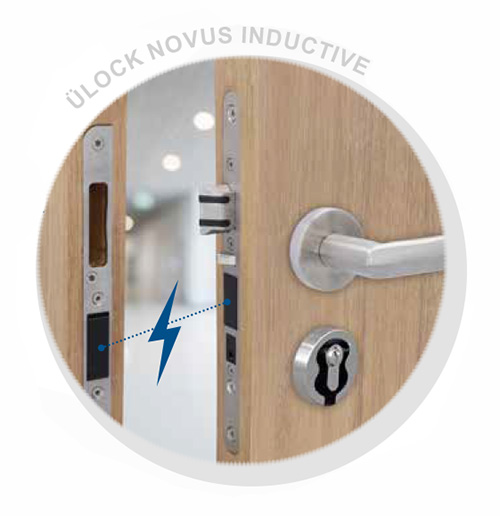 DESIGN
Handle models are freely selectable in terms of design and color
Special colors, PVD and antimicrobial surfaces (ABACO) possible
No additional components such as readers on the wall required
SAFETY
The electronics are protected in the lock case, only the tamper-proof reading unit is located on the outside
The sensitive components are therefore not visible and are protected by the lock and door
20 mm mechanical self-locking of the Ülock
Emergency opening by cylinder key still possible
OPERATION
Opening by RFID medium or smartphone (BLE)
Easy retrofitting, as it can be used in almost all standard doors
No additional components, drilling or milling necessary
Customized variants available for OEM partners
SUSTAINABILITY
Through inductive charging via the striking plate
No battery change and no maintenance necessary
ÜLock Novus Inductive – The solution for a sustainable future!