Fire resistant door handles from Südmetall comply with DIN 18273
Fire doors are one of the most critical elements of fire protection to reduce the spread of fire. The self-closing doors or gates meet all the specified fire safety requirements. They require building authority certification and – once this certification has been obtained (DIN 4102, Part 5) – they cannot be modified. In order to meet certain building regulations when installing fire doors, the door handles must be tested for 30 minutes (T30), 60 minutes (T60), 90 minutes (T90) or even 120 minutes (T120) for fire resistance.
Fire door fittings intended for use against fire must meet the performance requirements prescribed by EU standard. The basic function of a safety handle for fire doors is to ensure the opening of the door itself during and after a fire. Indeed, rescue workers must always be able to open the doors that separate the areas at risk. Therefore, it is essential to ensure functionality and resistance for both the door and its components.
In the case of fire doors, smoke control doors and escape doors, it is always important to ensure that only fittings that meet the specified test standards are used. Fully fire resistant door handles have a higher melting point to ensure that the handle is not affected during a fire and that the door can still be walked on after a fire. Furthermore, it is specified that the square pin must be made of steel, have a cross-section of 9 x 9, and be undivided lengthwise. After 200,000 opening and closing cycles, no cracks or deformations must be visible.
Südmetall offers a wide range of fire door handles in various designs and finishes that meet all fire protection requirements (DIN 18273 – Germany, EN 1634-2 Austria on DIN EN 1634-2 fire resistance tests for door and fittings). Whether modern, traditional or contemporary, Südmetall has the right handle for every door. The regulations that apply to fire protection are laying down increasingly restrictive requirements to protect safety. For this reason, Südmetall handles are manufactured according to the strictest criteria of quality and safety.
The fittings provided by Südmetall for emergency exits also carry the DIN EN 179 test standard.
Do you have any questions about our fire protection fittings? Contact us!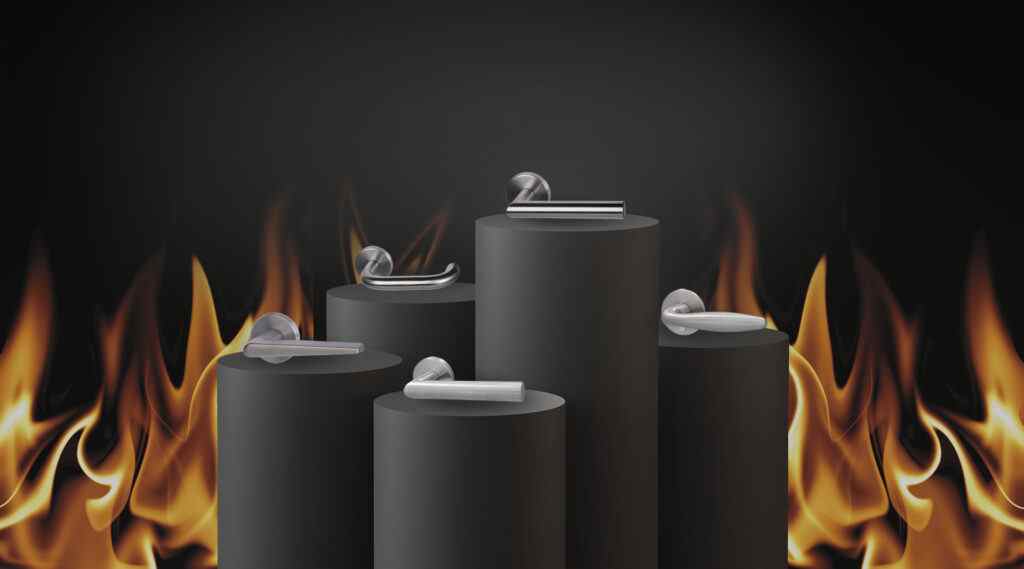 Südmetall rounds off the portfolio with fire-protection-tested electronic radio security locks and provides the evidence that fire protection is also compatible with modern locking systems. The ÜLock tubular frame locks Battery & Inductive withstand the fire resistance and smoke protection tests and thus meet the very high requirements of the DIN EN 1634-1 standard.