Offline based access control
ÜManagement offers a high degree of convenience to property managers and is therefore variably recommended for the smallest properties but also for large buildings with a large number of users. By installing software, access control can be individualized. For example, it is possible to restrict access to selected days of the week or even times of day. Another form of individualization is the creation of user groups with different access rights. The data is conveniently transferred to the Mifare cards via a card reader on the PC – ACCESS ON CARD.
Features
Installation flexibility
STANDARD: simple installation on the computer / single workstation version
SQL SERVER INSTALLATION: can be operated from multiple workstations
Management or Professional modes
MANAGEMENT MODE
– Authorizations are always assigned to a user group
– Clear handling / organization
– Optimal for smaller objects
PROFESSIONAL MODE
– Authorizations can be assigned directly to up to 5 doors (additional assignment to user groups is possible, e.g. apartment and common rooms)
– Very extensive possibilities of organization
Easy management of different locks
– ÜLock
– ÜLock Novus
– ÜLinder
– ÜHandle
Advantages
For the user
– Only one transponder required, no need for a complete bunch of keys
– Low risk in case of loss of the transponder
For the operator
– More comfort and security (e.g. through individual rights / automatic locking e.g. of the entrance door
– No license fees
– Optimized for retrofitting
For the house technician
– Simple software
– Flexible functions
– Automatic assignment of supplementary authorizations (e.g. entrance door/meeting room) possible
Benefit
Industry / Offices
– Flexible access for employees
Retirement home
Mrs. xyz gets e.g. access rights to her apartment, to the entrance doors and to the wellness area within opening hours
Hotel / apartments
– Very simple issuing of guest cards
– Points system e.g. for the use of wellness / fitness / …
Club / clubhouse
– Very simple administration possible, hardly any previous knowledge required
– Flexible organization (e.g. time zones / authorization of new club members …)
ÜManagement 2.0 software
Access on Card software for organization and management of access authorizations. The software is suitable for convenient organization of objects of any size. Compatibility with the various closures provides maximum flexibility for installation, especially in existing objects.
General product features:
Compatible products: ÜLock, ÜHandle, ÜLinder
Encrypted data transmission
Access on Card: user rights are stored on the identification medium with the help of a desk reader
Classification: users/user groups
Time management: time zones/weekdays
Access authorization: time-definable
Event memory can be read out with the help of a "reader card
Access authorization: individually programmable
Operating system: Windows 7 and new
Standard or SQL Server installation
Credit function: loaded with points, points are debited with every access
Performance features:
250 buildings
250 corridors per building
68,000 ÜLinder or ÜHandle
15,000,000 ÜManagement RFID readers
Users when using ÜManagement RFID readers: unlimited
Users when using ÜLinder or ÜHandle: 68,000
RFID identification means: Mifare DESFire EV1, EV2 and Mifare Classic 1k, 4k
Time zones: unlimited
Times per time zone: 2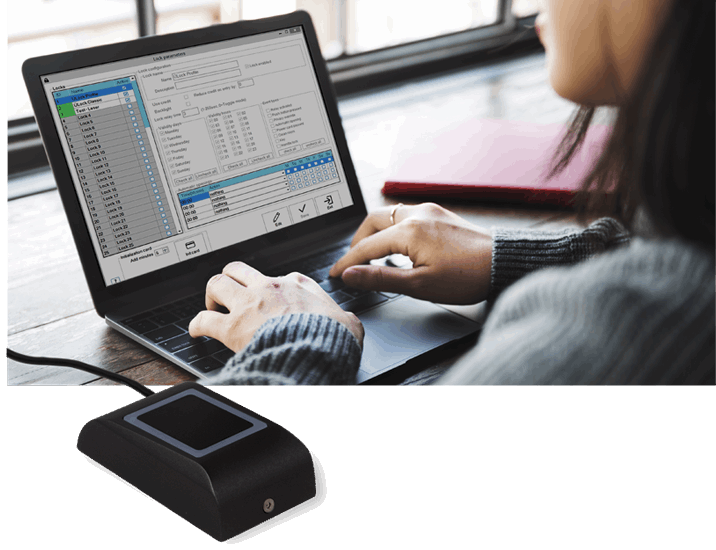 ÜManagement RFID reader
RFID wall reader for direct control of an ÜLock-B via wireless. The light element of the wall reader can shine in white as an orientation guide. The color green confirms the access authorization, red signals the missing access authorization.
Product features:
ÜLock Control: Radio 868.3 MHz
Card/transponder type: Mifare Classic 1k/4k and DESFire EV1/EV2
Reading distance: maximum 6 cm
Configuration: configuration card is programmed using ÜManagement 2.0 software
Operating voltage: 12V DC
Dimension: 80 x 80 x 28 mm
Installation: standard flush-mounted box
Event memory: readout
Surface: plastic
Color cover frame: silver, anthracite, white
Color light element: white, green, red