Rechargeable motor cylinder
ÜTopic is probably the smallest motorized cylinder lock in the world with integrated Bluetooth!
ÜTopic is a retrofit motor for mechanical locking cylinders, which can be controlled via a free APP. It enables the motorized opening and closing of the door. The automatic control takes place either by means of fingerprint reader, radio handheld transmitter or with your own smartphone (Bluetooth).
The APP (Android & IOS) must be installed on the respective smartphone during commissioning. Additional authorizations can be generated and managed, which can be sent to other users by means of a code. Time-defined authorizations can also be easily set via the APP: This allows, for example, automatic locking at certain times, access authorization for a limited period.
ÜTopic, with its simple operation, sleek design and rechargeable battery, provides greater security and convenience in the home. There is no need to change batteries, it only needs to be recharged every 60-90 days with a charging cable (Micro USB interface).
ÜTopic can be used for all doors with cylinder lock and is perfect for retrofitting. It does not require any wiring of the door leaf. The existing cylinder does not need to be replaced, but can continue to be used. The key must be sawed off according to the template. It is important that the profile cylinder protrudes 2 mm. Alternatively, the profile cylinder can be replaced by a cylinder already prefabricated by Südmetall, including 4 keys. This also eliminates the need to cut the key.
Overview features ÜTopic
Management via smartphone APP
Allocation of authorizations for additional users, e.g. by code or directly at the device
Automatic actions can be programmed (e.g. automatic locking at a certain time)
Time-limited authorizations (e.g. for craftsmen or domestic helpers)
Integration into existing systems possible
Perfect for retrofitting
Can be used on any door with profile cylinder
>>> The existing cylinder can still be used (the key must be sawed off according to the template; 2 mm protrusion of the profile cylinder required)
>>> Alternatively, cylinders already prepared by Südmetall including 4 keys are available
No wiring of the door required
Cylinders without emergency and hazard function can also be used
General advantages
No battery change: rechargeable (sustainability): every 60-90 days the ÜTopic has to be recharged via charging cable
Easy commissioning through the setup wizard in the app
Mechanical emergency unlocking possible. In an emergency, the door can still be unlocked from the outside with a conventional mechanical key, even if the cylinder does not have an emergency and danger function
No license fees
Additional control via finger scan and remote control possible
Typical areas of application
Apartment doors / private homes
Retirement homes / nursing facilities (flexible access for nursing staff)
Rentals / vacation homes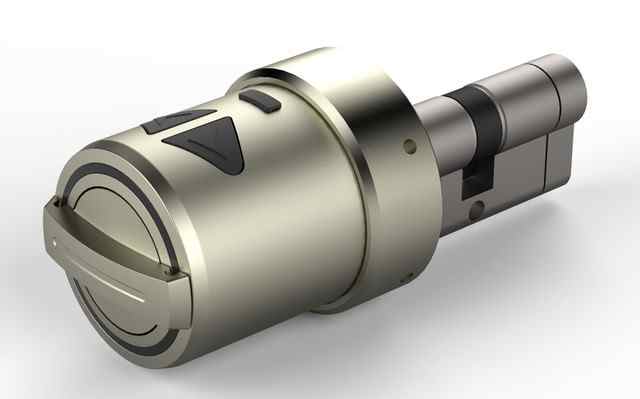 Control options
Smartphone
Cell phone must be within Bluetooth range to lock or unlock the door or to make changes to the settings
Up to 40 different cell phones or controllers can be added
One-time codes can be created remotely without an internet connection as ekeys. These can be shared with anyone who wants to unlock the corresponding door using the Utopic SmartLock app installed on their phone
Fast and stable connection
Change of all settings of the lock possible
Usage logs can be retrieved
Highly secure Bluetooth communication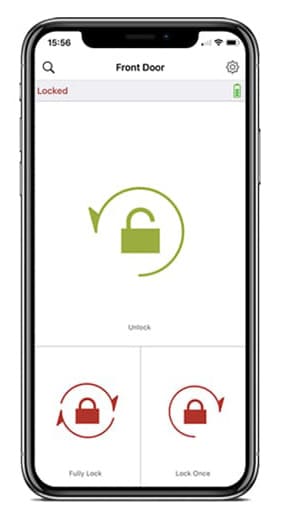 Fingerprint reader
Storage of up to 100 fingerprints
Capacitive sensor with 508 dpi (Suprema)
LED graphic display and touch keys
Highly secure wireless communication
Dimensions: 63 mm x 80 mm x 15 mm
Power supply: 2 x alkaline battery
Operating frequency: 434 / 868 MHz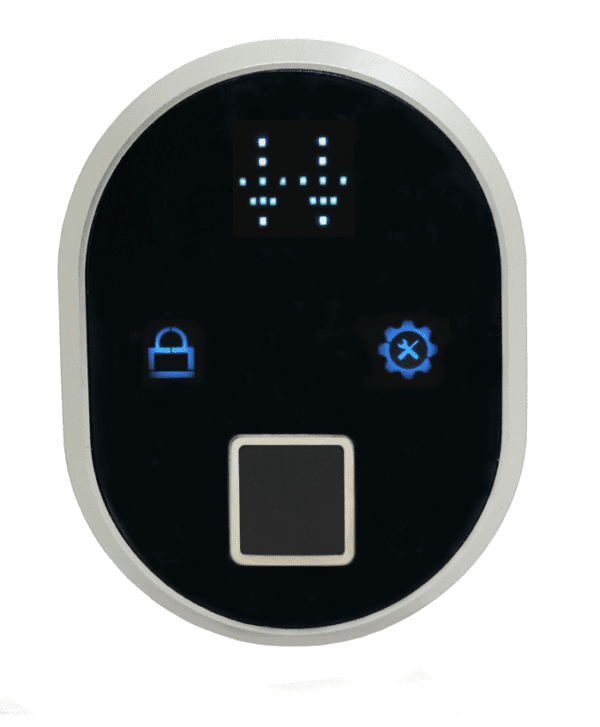 Radio remote control
Give your gardener, housekeeper, etc. recurring access with your remote control
Encrypted rolling code
Led activation indicator
Long battery life
Dimensions: 35 mm x 58 mm x 12 mm (user remote control)
Power supply: 2032 lithium battery
Operating frequency: 434 MHz